Renting the Clubhouse is as easy as 1…2…3
View the reservation calendar above to check availability for the date of your rental.
Complete the Online Clubhouse Rental Form to reserve the clubhouse.
After your online form is submitted, you will receive a call from the YMCA staff to confirm the rental and to hold your credit card for deposit.
Rental Information
The fee to rent the clubhouse is as follows:
For residents: $45/hour (minimum of 3 hours) with a deposit of $250
For non-residents: $300/hour (minimum of 3 hours) with a deposit of $1000
We need a two-week notice to rent the clubhouse.
Sub-renting the clubhouse is not allowed. If you are not present at the clubhouse during your rental time, we will charge you the non-resident rate, in addition you will not be able to rent the clubhouse for a year. The clubhouse is intended to be rented by residents who are present during the time of the rental not sub-rented to non-residents.
The clubhouse may be reserved for no more than 2 weekend days (Friday – Sunday) per month per resident.
Signup is on a first-come, first-served basis. 
We accept only 1 rental party per day to allow for cleaning and checkout between rentals.
Security is required if you are serving alcohol and/or have over 75 people. The fee is $40 /hour (starting 10/1/23) with a minimum of 4 hours.
Your payment can be made via credit card and we accept Visa, MasterCard and Discover. Once you complete the Online Clubhouse Rental Form you will be contacted by the staff at the YMCA to provide your credit card information.
Here is a guide to the Audio Visual equipment when you rent the clubhouse: Wheatlands Clubhouse Audio Visual Guide
COVID19 Policy
Our clubhouse must follow CDPHE and Tri County's health regulations regarding masking and capacity at our clubhouse. Since their policies are subject to change we encourage residents to follow www.tchd.org and https://cdphe.colorado.gov/ for their latest guidance and rules that apply to the clubhouse during your rental.
Capacity is based on Tri County Healths' regulations and is subject to change based on county health ordinances. Even if you book your rental under one regulation, the current regulation regarding capacity or masking is what applies at the time of the rental. (The maximum capacity of the clubhouse is 143 people)
All folding tables and chairs used, MUST be wiped down with disinfecting wipes (provided by Rental Party) after use and prior to storage.
An additional COVID waiver must be signed and is included in the online clubhouse rental form.
Rental Check Out
After your rental, you must complete the Rental Checkout Checklist form below:
For questions on rentals email the YMCA at [email protected] or call 720-274-5759.
About the Clubhouse
Our community clubhouse features a wonderful meeting space and a place to relax with family and friends. It is easy to entertain with the built-in kitchen that includes a fridge and microwave. Want to watch a movie or host a business meeting? The clubhouse includes a projector, TV, speakers, and a cozy fireplace. Need more tables for your event? The clubhouse has tables and folding chairs ready for you to use. Outside is a BBQ grill and playground all overlooking the Rocky Mountain's front range. As a community, we host several neighborhood events during the year at the clubhouse. We hope you have a chance to check it out and enjoy it!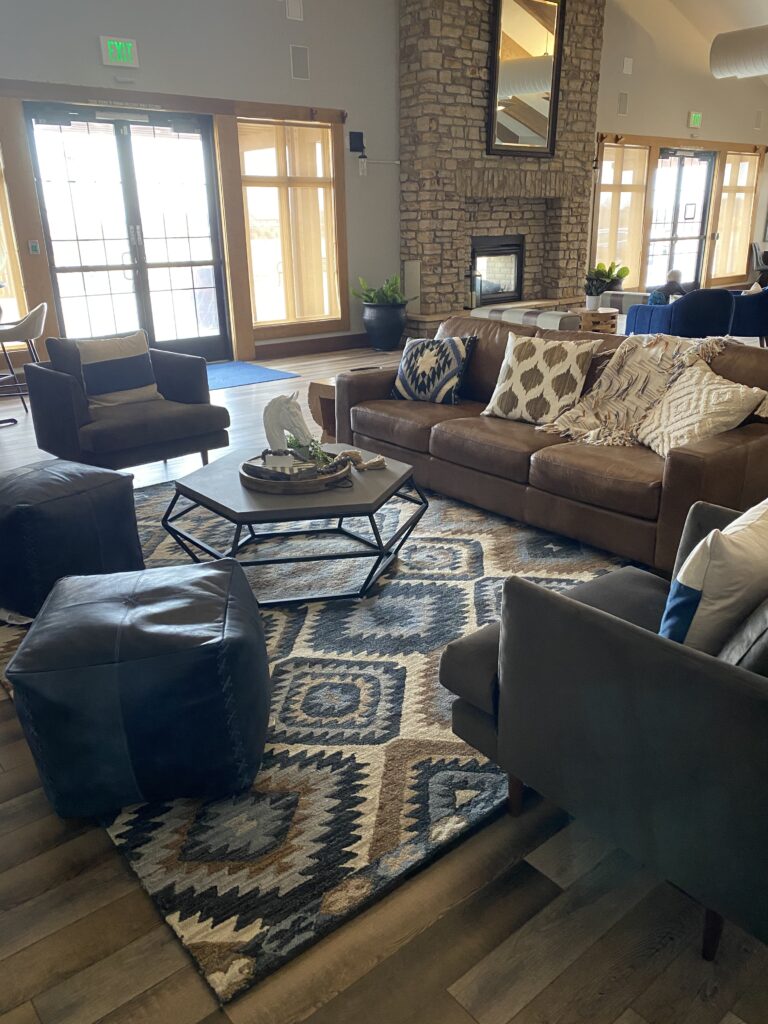 Bounce House Rentals
The District owns a bounce house that residents can rent out for a fee. Please see the attached bounce house rental agreement to rent the bounce house for your next gathering at the clubhouse.
Yard Game Rentals
The District has purchased several yard games for our residents to rent out, free of charge. To rent the games, please complete the Yard Game Rental Form.