October Newsletter

Upcoming Community Events



Calling all Witches and Warlocks, please use the link below to add your house to the Wicked Wheatlands Decorating Contest. The map will go out October 25th, so we encourage residents to sign up early to ensure you are listed on the map and entered into our contest. Our Ghostly judges will drive around, viewing all the displays the weekend of the 28th and 29th. The winner will be announced on the 30th. For all our winners last year, you are welcome to add your house to the map however if you won last year you will not be eligible to win again this year. We are looking at creating yard signs to show off that you were a 2022 winner and recognize your amazing decorations. Thank you for continuing to bring joy to our community! Once you submit the form a confirmation email will be sent to you. If you need to change or edit your responses you can use the confirmation email to make any modifications. With Google Forms, you are unable to remove your entry completely so if you do not plan on participating please do not fill out this form as your address will be added once the form is completed. Thank you for participating in the Wicked Wheatlands Halloween Contest. Click here to sign up for the 2023 Halloween Contest!



We are looking for 10 volunteers from the community to help with judging for the 2023 Wicked Wheatlands Halloween Contest.

Please email Isabell Rodau at

[email protected]

if you are interested in helping out!


Click here to sign up for the Pumpkin Patch!
Click here to sign up for the Wheatlands Winetasting event!

Sign up coming soon.





Want to advertise your business and help your community have amazing social events or have a panel to advertise your business on the new Urban Soccer Fields that will be installed at the Aurora YMCA at Wheatlands? Become a sponsor at our social events. or have a panel on the Urban Soccer Fields. We are in the planning process for next year's social events, and we are always looking for sponsors to help with the events. We are also looking to have the Urban Soccer Fields open and ready for use this October and we would love to help promote your business! If you are interested in being a sponsor, please click on the link below to download the form. Fill it out and email it and any questions to

[email protected]


Click here to get the sponsor form for social events!




Click here to be a sponsor for the Urban Soccer Fields!

Community Information
Landscape Maintenance: We have recognized several draining issues at the Wheatlands Park. We are working with the Phase II contractors to understand why the water isn't sloping correctly and then will work on solutions. In the meantime, Cox is continuing to monitor the drainage issues.

Park Maintenance: The board approved at the last board meeting to have daily cleaning of the park restroom next summer. This will be added to the budget for 2024 and will allow the bathroom to remain open as it will be cleaned with increased frequency. We encourage residents if you do notice vandalism in the restroom to notify the board so we can take care of it swiftly. Please contact us at

[email protected]

.

Urban Soccer Field: During September the contractors laid down the padding and began installing the turf to the soccer fields. We are eager to play on the new fields and look forward to opening them soon. At this time the lights on the soccer field and pickleball courts are not functional as the electricity doesn't run from the building to the courts. This feature can be added at any time and the board is looking to budget for the installation next year.




Clubhouse Security and Non-Resident Rental Rate: At the last board meeting the board voted to hire a new security company. This company charges $40 an hour for security and we are hopeful that they will be more responsive and better for our rentals going forward. The board is also looking to increase the non-resident rate for renting the clubhouse. We will vote on a new rate for non-residents at our October meeting. The resident's rate would stay the same at this time.

Park vandalism: We continue to see graffiti vandalism all over the Wheatlands park on a regular basis. The vandalism costs the district a lot financially to continue to clean up. Please see the pictures below and help us catch these vandals as it is the same graffiti time after time. If you have any information, please contact us at

[email protected]

. Thank you for your help and cooperation!
Defacing property is a Class 2 misdemeanor and is punishable by 3 months to one year in jail in addition to fines up to $1000. Depending on damage charges can go up to a Class 3 Felony which would result in 4-12 years in prison and $3,000-$750,000 in fines. A police report has been filed.



Covenant Document Review: We annually review our covenant documents and have started the process of reviewing them for any changes that need to be made for 2024. The changes that we are including reflect the changes the City of Aurora has made regarding landscaping this year. It also is a great time to enhance our covenant documents to ensure they are easy to understand and helpful to our residents. Once we have finished the revisions, we will approve the updated guidelines and then they will be posted on our website.

COVENANT ENFORCEMENT


Holiday Lighting and Decorations
While it may be hard to believe, the holiday season is, in fact, fast approaching. Cue the holiday parties, lights, and decorations. Here is an opportunity to review your District's rules.
Per the Wheatlands Residential Improvement Guidelines section 3.44 Lights and Lighting
"Holiday lighting and decorations do not require approval. It is required that they not be installed more than forty-five (45) days prior to the holiday. They shall be removed within thirty (30) days following the holiday." If you have any questions or concerns regarding holiday lighting and decorations, please email

[email protected]





Design Review Process
Are you planning on making some home improvements or updates to your landscaping? Or are you someone who needs to repaint or replace your roof? As some of us have experienced, if we wait too long it can be hard to find a painter,landscaper or construction firm that isn't already booked out for months. Now is the perfect time to plan the work you want to do on your home or yard and meet with contractors. Once your plans are finalized and you have a time frame for the work, submitting your application and supporting documents to the Design Review Committee is the next step.
Follow these few simple steps.
1. Go to https://www.wheatlandsmetro.org/covenants/
2. Fill out the Design Application
3. Submit your application via email to

[email protected]

or by mailing it to:
Wheatlands Metro DistrictC/O AMIP.O. Box 370750
Denver, CO 80237
4. Remember to include with your application submittal:
1. Site Plan showing lot dimensions; outline of home and garage with setbacks; names and positions of adjacent streets; dimensions of improvement (height, width, depth), with setbacks to all boundaries; and an indication of North.
2. Visual(s) of improvement such as drawing, photo, brochure/ad, paint swatch (es), material samples, etc.
3. Building Plans, if the improvement is a new or modified building/structure.
4. A copy of your Plot Plan

To get a Plot plan for Aurora
1. Click on link:
https://www.auroragov.org/city_hall/maps/property_information
2. Type in Address top left corner of map (It will auto generate, HIT ENTER
3. Property will show satellite image, SCROLL DOWN TO "MY PROPERTY" IN PURPLE
4. Click on MY PROPERTY
5. Scroll down to Public Document Search at bottom
6. Click on Documents with this address
7. Scroll down until you find the most recent PLOT PLAN – Permit from Residential Master: Single-Family Detached Plot Plan Approved
8. Click on VIEW
9. Save to File Please feel free to email any Design Review questions to

[email protected]

or by calling 303-351-5411
PLEASE NOTE: It is the Owner's obligation to check with the Town/County/City and obtain a building permit if it is required for the improvement. Any damage resulting from owner-installed improvements to common areas or Association-maintained landscaping or structures is the responsibility of the Owner. Any cost associated with repairing damage, discoloration or water leaks resulting from owner-installed improvements or penetrations to Association-maintained structures, shall be the responsibility of the Owner.



Next Board Meeting Thursday, October 12th at 6:00pm
We welcome all community members to attend and participate in our board meetings. Get involved and volunteer for a committee and share your talents! Going forward the board has decided to allow for flexibility with our meetings and will post on the agenda prior to each meeting if they will be at the clubhouse or online. View our website at www.wheatlandsmetro.org to see the agenda and past meeting minutes. Thank you!

YMCA Programs
Click here to sign up for Sports!

Grab your paddle and wiffle balls and come out and play some pickleball! The pickleball court at the Aurora YMCA at Wheatland will open on Friday, September 1st! Reserve your spot today!
8am-7pm ONE (1) HOUR AND A HALF SLOT PER GROUP PER DAY! At least one member of the group playing must be 18 years of age or older. If you are signed up for more than one slot per day, we will cancel your reservation. Stop in at the front desk 10 minutes before your scheduled playing time to check in and have one of our staff unlock the gate for you. You will be asked to leave your ID at the front desk when you check in and it will be given back to you when you leave. Don't have a paddle or ball? The front desk can supply you with the equipment. Remember only ONE (1) HOUR AND A HALF SLOT PER GROUP PER DAY!
Thank you and Happy Pickleballing!
Click here to sign up for pickleball in October!


Click here to register for KNO
Click here to sign up for Kids and Canvas
Click here to sign up for October Sip and Paint

Calling all kids for some fun in the kitchen! Over 4 weeks, build confidence, practice safe kitchen skills, and eat yummy food as we cook our way through different recipes, learning basic cooking skills along the way. Kids leave this series feeling inspired to try new foods! Classes are led by an experienced cooking instructor in our YMCA kitchen spaces.

UPCOMING SESSIONS: September – November 2023
Aurora Wheatlands YMCA: Wednesdays and Thursdays,
4:30pm- 5:30pm (K- 2nd); 6pm- 7pm (3rd- 5th)
Contact

[email protected]

email for any questions.


Click here to sign up for Kids Cooking Series!
Click here to sign up for Youth Dance!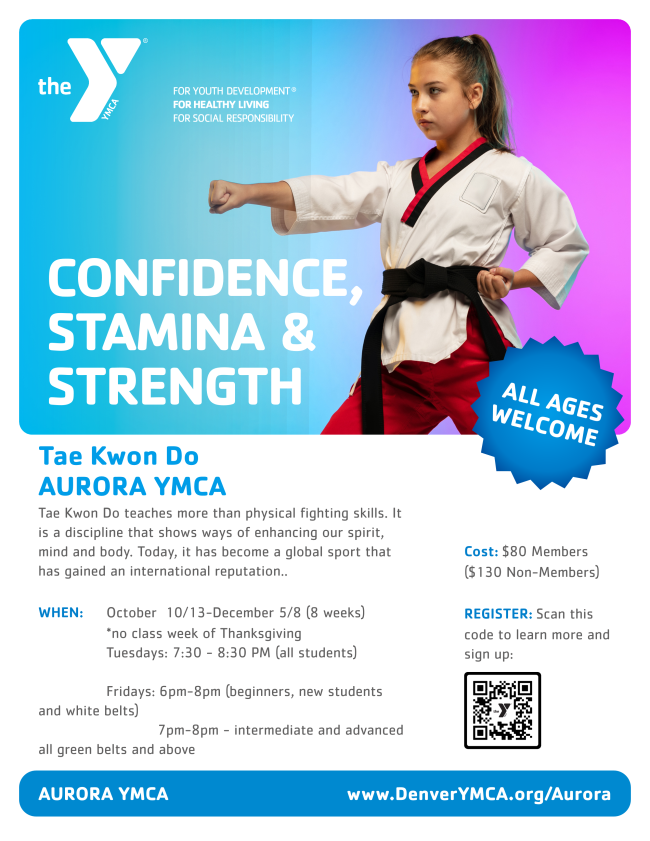 Click here to sign up for Tae Kwan Do!
Click here to apply to become a lifeguard or swim instructor!
We are offering all sorts of swim lessons for kids of all ages!
Click on the link below to register! Sign up soon!
Click here to register for swim classes/lessons


Southlands Events


The Southlands Shopping Center continues to offer events and programs. Check on the link below for information
Visit our website for more details